The City of Preston's Economic Development Authority (EDA) is committed to the growth and expansion of businesses, jobs and community development. The EDA can assist businesses with loans/grants, business development, site selection and connect entrepreneurs with the tools they need to successfully start a business. For more information on how the Preston EDA may be able to assist you please contact the Preston EDA at CONTACT US or 507-765-2153. 
EDA Board Members:
Dwight Luhmann – Board Chair

Jon Ebner  – Vice Chair

Jon DeVries – Member

Julie Sogla – Member

Erik Topness – Member

Steve Hall – Member/City Council Representative

Dean Aug – Member/City Council Representative
---
EDA Economic Development Projects
Preston Livability Website – www.prestonmnchamber.com/livability  This is a partnership project with the Preston Area Chamber of Commerce that showcases community assets. The tab offers those wishing to live or recreate in Preston the opportunity to gather information to make decisions or further inquire about why to live or recreate in Preston. This was partially funded through a SMIF grant.
Preston Commercial Inventory Website – a page where people can list/view commercial space that is either for lease or for sale. View it here.
Minnesota Small Business Development Center Partnership – The City of Preston has a partnership with the SBDC office in Rochester which provides quality assistance and services to business and entrepreneurs. The SBDC offers at no cost, confidential consulting to help businesses in SE MN identify, understand and overcome the challenges of starting a business, running a successful business, and developing exist strategies. For assistance contact 507-738-1003.
Preston Veterans Home – 54 resident skilled nursing care facility for Veterans.  Currently under construction and set to be open mid-2023. Click here for more information.
Preston Historic Walking Tour – The Preston Historical Society walking tour is a self-guided walking or driving tour of the heritage of Preston. This project was a partnership between Preston EDA, Preston Historical Society and Preston Tourism. View the walking tour here.
Preston's NW Industrial Park

– Please contact the EDA for site selection as there are limited sites available. 

Industrial Park plat

Spare Change Round Up Program – Preston Public Utility Customers can round up their utility bill in an effort to raise funds for non-profit groups in the community.

 

Click Here to Download the Guidelines and Application

Small Cities Development Grant – Completed in December of 2018. This program assisted with the rehab of 8 blocks around the Fillmore County Courthouse square in downtown Preston. It put $933,000 into projects. 70% of that was grants and 30% was low interest loans. Improved rental units and commercial buildings. 
Local Small Cities Development Grant – is an opportunity for businesses to take advantage of forgivable loans that help rehabilitate buildings and apartments in the downtown business district. Click Here for Guidelines
Preston Housing Committee – was formed in 2018 to help uncover housing opportunities in Preston. This included working with the Preston Area Chamber of Commerce to create a Preston Housing Summit in 2018.
Preston Housing Needs Study – updated in 2018. Click here to view.
Fillmore County Housing Needs Study – Click here to view.
Preston Job and Career Fair – A community job fair held in 2019 in person and online for the public. For students and introduction to the job fair and a career fair. Each served a purpose to introduce students to jobs, experience job recruitment, and career exploration. Additionally, panelist and area experts provided students with both education and guidance while they began to think about how to incorporate their passion into their first career choices.
---
Preston Demographics 
Preston, MN has a population of 1,322 according to the 2020 census with a daytime population of 1728. Median age of 46.8 and a median household income of $45,556.
The median property value in Preston, MN is $185,507, and the home ownership rate is 71.8%. Most people in Preston, MN commute by driving alone, and the average commute time is 24.2 minutes. The average car ownership in Preston, MN is 2 cars per household.
The largest universities near Preston, MN are Winona State University, University of Minnesota-Rochester, and Saint Mary's University of Minnesota. Technical colleges include Rochester Community and Technical College, Riverland Community College  in Austin, MN and in Winona, MN, Minnesota State College-Southeast Technical
Preston is one hour from La Crosse, WI, one hour from Winona, MN, one hour from Austin, MN, forty minutes from Rochester, MN and forty minutes from Decorah, IA.
---
Southeast MN Economic Development Study
The Southeastern Minnesota League of Municipalities (SEMLM) in October of 2018, released a study with an updated economic forecast for southeast Minnesota, and options for several major policy shifts to accommodate population and employment growth over the next 25 years. Among the policy options and recommendations are zoning changes to support greater housing production, expanded transportation networks, a regional tourism strategy, immigrant support resources, and programs to increase access to childcare – all designed to grow the region's economic development potential.
The study – the first of its kind in the region – forecasts long-range population, employment, and economic activity in the entire Southeastern Minnesota region, on a county-by-county basis. The region, composed of Dodge, Fillmore, Goodhue, Houston, Mower, Olmsted, Wabasha, and Winona counties, encompasses 77 municipalities, with more than 368,000 residents and 190,000 employees. Here is a  Link to the study
---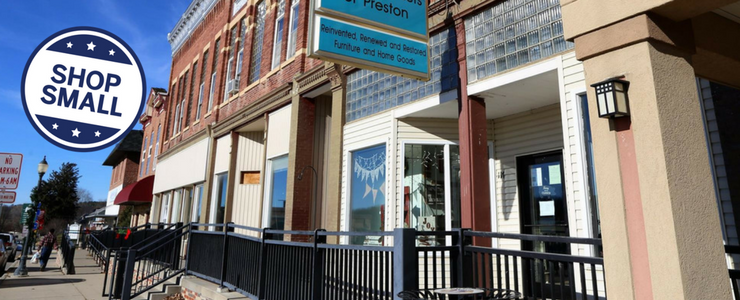 Commercial Inventory
Click here for updated Commercial Inventory or CONTACT US or call 507-765-2153
---
State Veteran Home – Preston
Built on a 15-acre blufftop surrounded by a stunning 200-year-old white oak forest, the Home will reflect its natural environment and offer a variety of welcoming exterior views, including a well-appointed, fenced-in courtyard and garden. Residents will be able to enjoy:
Private bedrooms with private baths
Three, 18-Resident "households" to create a connected, small community feeling.
A Town Center featuring a coffee shop/café, theatre/community room, dining room, game room, meditation room/chapel, club room for entertaining family and friends, and other communal spaces.
A schedule that fits their life! Our teams will develop a care plan that is person-centered to best meet their needs.
Ongoing community involvement through activities and events
Follow the Minnesota Department of Veterans Affairs Future Home information by clicking here.
You can follow the Preston Veteran Home Support page by clicking here.
Find more information on the Preston's Veteran Friendly Community Campaign click here.
---
Preston Housing Incentives & Information 
The Preston Economic Development Authority facilitates Housing Incentives to promote new construction and the rehabilitation of existing properties. If you would like to build new or rehab your current home, contact the Preston EDA at 507-765-2153 for more details. The incentive may include energy savings, free utilities, Preston Bucks, golf club memberships, Preston pool passes and permit fee reductions.
---
Preston Commercial Incentive/Improvement Revolving Loan Funds
The Preston Economic Development Authority operates a Revolving Loan Fund for business startups, expansions, and other commercial projects. The incentive is offered through a low interest rates and attractive financing terms.
Click Here for Preston Revolving Loan Fund for Business Development
---
Local Small Cities Development Program Funds
Opportunity for businesses to take advantage of forgivable loans that help rehabilitate buildings and apartments in the downtown business district. Click Here for Guidelines
Funds are revolving from the Small Cities Development Grant that was completed in 2018.
Contact Preston EDA at CONTACT US or call 507-765-2153 for an application.
---
PACE: Property Assessed Clean Energy (PACE) program in the state of Minnesota.
This program was created by the state legislature as a funding mechanism for renewable energy and energy efficiency upgrades for businesses and non-profits. Fillmore County passed a joint powers agreement with the St. Paul Port Authority making this program available to Preston businesses. The process generally starts with an energy use assessment. These can be any of the energy efficiency options available through Preston Public Utilities, or some other no-cost options available throughout the state. Here are a couple of links to learn more about the program, and read about some examples of its use in the region: https://www.minnpace.com/
---

Spare Change Round Up Program Preston Public Utility Customers can round up their utility bill in an effort to raise funds for non-profit groups in the community.  Click Here to Download the Guidelines and Application