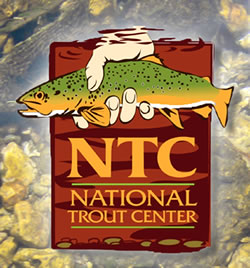 The National Trout Center (NTC) is located in downtown Preston and serves as an educational resource to trout anglers of all ages and abilities. The center provides hands-on activities to engage the public in awareness of the environment and cold water fishery resources of the driftless region and the arts and crafts related to trout fishing.
Learn more about NTC workshops, events, and exhibits at: www.nationaltroutcenter.org or 507-765-4700.
Mission Statement
The NTC seeks to conserve our natural and cultural heritage of trout and their coldwater environments by engaging the public through education, practice and awareness.
CLASSES
The National Trout Center offers field trips by appointment for individuals, families, and groups to study hydrology, geology, water chemistry, water quality, trout habitat, and life history. Reference material, worksheets, sampling gear, and field equipment are provided by the National Trout Center. Instruction is geared to student grade levels.
CLINICS & WORKSHOPS
These are available on scheduled dates or by appointment with National Trout Center instructors. Sessions include reference material, demonstrations, oral and video instruction, hands-on casting with our tackle or yours, and internet links for after-class follow-up.
GUIDING SERVICES
Guiding services provided by the National Trout Center will introduce fishers to the cold-water fishery resources of the area. Fishing trips may serve up to four fishers for half, or full-day excursions. Services are provided by National Trout Center guides or by referral to area outfitters and guide services.
EXHIBITS
Visitors at the Trout Center in downtown Preston can expect to find:
Exhibits on trout & stream ecology
Information on local stream & fishing conditions
Printed stream maps
Fishing literature
Live trout & aquatic insects on display
Outfitter information
Information on tourist accommodations