Bauer Built Tire & Service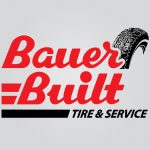 About:
Since 1944, Bauer Built Tire has become one of the largest commercial tire dealers and retreaders in the United States.
We carry a complete line of: passenger tires, light truck tires, commercial truck tires, custom and stock retreads, agricultural tires, industrial tires, off-the-road tires, and tubes; major brands and private labels. Bauer Built has also expanded its products and services to include bulk fuel distribution.