Stay in a cozy cabin, a lodge near the trail, or an Historic B&B. Preston offers a wide range of lodging suitable for every need. Contact the following listings or for more information contact the Preston Visitors Center directly.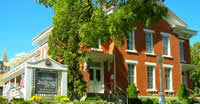 Jail House Inn Bed & Breakfast
109 Houston Street NW, Preston
507-765-2181
jailhouseinn.com
A Bed & Breakfast Worth Going To Jail For!
Featured on "Good Morning America," the "Today Show" and in "USA Today" – 12 Room Inn with private baths, freshly prepared full breakfasts and located only 3 blocks from the root river bike trail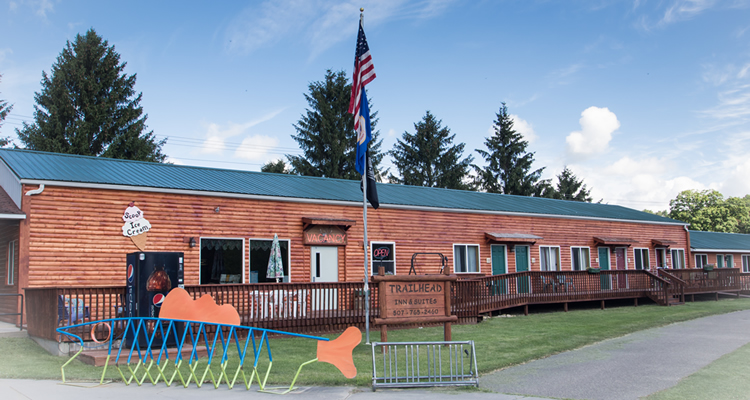 Trailhead Inn
112 Center Street, Preston
507-765-2460
www.trailheadinnpreston.com
Complimentary breakfast, 6 Standard Double Queen Rooms, 4 Standard Single Queen Rooms, 1 King Jacuzzi Room, pet-friendly rooms. Located directly on the Root River Bike Trail!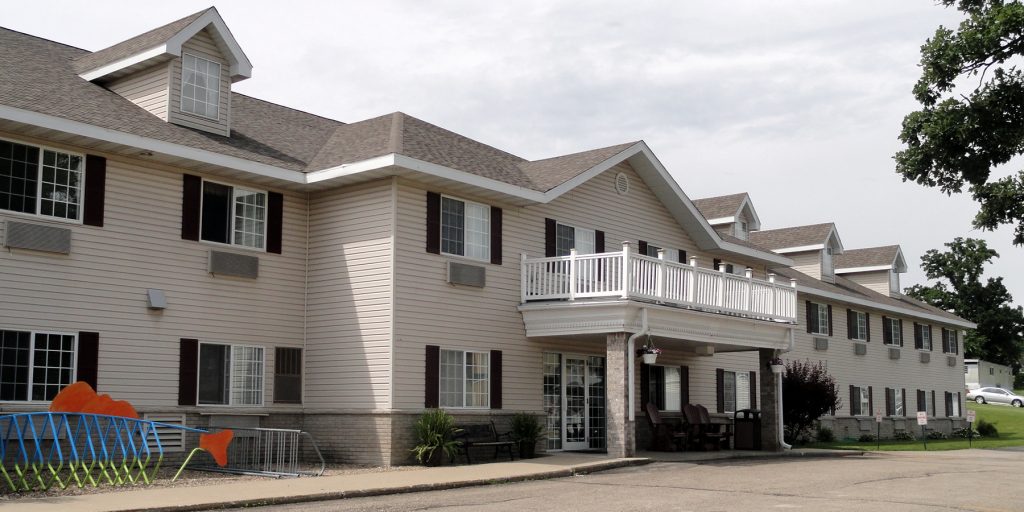 Country Trails Inn & Suites
809 Hwy 52 North, Preston
507-765-2533
or
888-378-2896
www.countrytrailsinn.com
OPEN YEAR ROUND!
40 Rooms/Suites, Indoor Pool & Spa, Continental breakfast served daily and conference room available.
1.1 miles off of US Hwy 52/State Hwy 16 next to the Trailhead in Preston
www.airbnb.com
Enjoy the great outdoors as much as the unique indoor space when staying at the Pedal and Paddle Inn. Located steps from the state bike trail and Root River, inside you will find an eclectically decorated space with equipped kitchen, 3/4 bathroom, and a combination queen bedroom and living area with vaulted ceilings. After a fun day on the river or trail, come home to relax in the screened deck, by the fire pit, play some pool, or put your feet up on the couch.
---
HOTELS & LODGING

# of Rooms & Suites

Breakfast Included

Wifi Available

Private Bathroom

Handicap Accessible

Kitchennettes

Pool (p) Hot Tub (h)

Pets Welcome

Open Year-Round

Cottage House Inn


209 Parkway Ave. N, Lanesboro | 507-467-2577
15
*
●
●
●

Country Trails Inn & Suites


809 Hwy 52 N, Preston | 507-765-2533
40
●
●
●
●
●
p h
●

Eagle Cliff Hotel


35455 Hwy 16, Lanesboro | 507-467-2598
5
●
●
●

The Historic Jailhouse Inn


109 Houston St. NW, Preston | 507-7652181
12
●
●
●
●

Old Barn & Rivers Bend Golf Course


24461 Heron Rd, Preston | 507-467-2512
4
●
●
p
●
●

The Pedal and Paddle Inn


Preston | www.airbnb.com
1
●
●
●
●
●

The Historic Scanlan House


708 Parkway Ave. N, Lanesboro | 507-467-8663
6
●
●
●
h
●

Stone Mill Hotel & Suites


100 E Beacon St, Lanesboro | 507-467-8663
13
●
●
●
●
h
●

Trail Head Inn


112 Center St NE, Preston | 507-765-2460
11
●
●
●
●
●
●
* Breakfast only available on weekends