Dine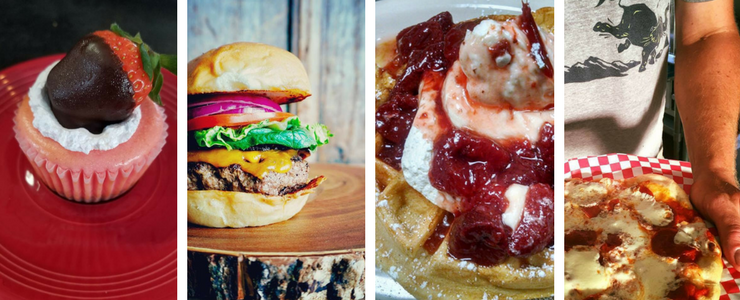 There are a variety of dining choices in and around Preston. Whether you want a quick lunch to take on the trail, a juicy burger and fries, pizza, or a delicious steak, we have it all. You can even find "Pizza on the Farm" on the weekends or tasty fried chicken for lunch! The options are endless!
---
B&B Olympic Bowl
401 Kansas St NW, Preston
507-765-2522
Follow Us On Facebook!
View Our Website
"The Best Breakfast in Bluff Country!"
The B&B offers a warm and inviting casual dining experience with a fireplace, comfortable tables, booths and high-top tables. Our restaurant is a great place for everyone to enjoy a delicious home cooked meal. Our dining room is located separate from our bowling facility and bar.
---
Blossom Hill Orchard and Farm
645 HWY 52 E, Preston
507-765-4486
Follow Us On Facebook!
View Our Website
Vegetables, apples, and MORE!
Organic vegetables-APPLES-Bakery-Greenhouse-Gifts
---
The Branding Iron
1100 Circle Heights Dr., Preston
507-765-3388
Follow Us On Facebook!
View Our Website
The Restaurant with the Beautiful View!
The Branding Iron is located on the hillside overlooking Preston, Minnesota. If you are visiting the area for it's scenic bike trails, camping, canoeing the Root River or taking an Amish tour or even if you live in Southeast, MN., we have a great selection of menu items for the whole family. Our menu includes appetizers, fresh salads, soups, burger's, sandwiches, steaks and seafood. We also have a lounge to watch sports or visit with friends and family while enjoying a drink from the bar.
---
Casey's General Store
875 HWY 52 N, Preston
507-765-4563
Follow Us On Facebook!
View Our Website
Famous for Pizza!
We offer a range of products under our Homemade To Go brand, such as pizza, donuts and more. We also offer a wide selection of name brand food and drinks to satisfy every craving.
---
The Club – Bar and Veterans Organization
217 St. Paul St. SW, Downtown Preston
507-765-2205
Follow Us On Facebook!
Support Preston Veterans and enjoy a cold one!
We offer a full indoor bar, deck lounge, and event spaces open to the public. Those who visit the Club will discover welcome place to enjoy a cold beer or a cocktail and good company. Burger nights on Friday from 5-8pm in the Fall through May. Check our Facebook page for more information!
---
Old Barn Resort & Restaurant
24461 Heron Road, Preston, MN
507-467-2512
Follow Us On Facebook!
View Our Website
Great Food in a Fun Atmosphere!
Truly a one of a kind dining experience. Where else can you eat inside a 138 year old historical barn? The Old Barn Restaurant offers a great dining experience for families and guests of all ages. Serving lunch and dinner, come enjoy classic American fare. We're talking mouth watering burgers, smoked meats and so much more.
---
Pine Tree Apple Orchard
1201 St. Paul Street
Preston, MN 55965
507-765-2408
www.pinetreeappleorchard.com
Fresh picked apples, baked goods and strawberries.
---
Preston Foods
105 Fillmore St. W, Downtown Preston
507-765-2465
Follow Us On Facebook!
View Our Website
Your local hometown grocery store, deli and more!
Our store features a deli, produce, frozen, dairy, and bakery selection to satisfy all of your grocery requirements. Not only will you find all of the items you require, you will also be gratified to learn of our unbeatable bargains.
Rod N' Reel Coffee Co.
105 Fillmore St. W, Downtown Preston (Located in Preston Foods)
507-765-2465
Follow Us On Facebook!
View Our Website
Stop by the NEW Coffee Shop inside Preston Foods for all your coffee needs! Fresh Ground, Gourmet, Espresso, Smoothies, Lattes, Mochas and MORE!
---
Sweet Stop & Sandwich Shoppe
110 St. Anthony St S., Downtown Preston
507-765-9956
Follow Us On Facebook!
View Our Website
"Best little sub shop you've never heard of!"
Subs, paninis, soups, salads, soft serve ice cream and desserts. Gluten-Free and Keto options available. We also serve breakfast all day long. Come by and check us out!
---
Trout City Brewing 
132 St. Anthony St. S, Downtown Preston
Follow Us On Facebook!
Drawing anglers, cyclists and nature enthusiasts for generations, Preston is home to good people, good food – and good beer. While this brewery traces its roots back to 2018, the building that houses it is more than 125 years old! Stop by for a cold or hot beverage, good food and great conversation!
---
Other Area Dining
Fountain – 5.5 miles
Karst Brewing 
315 1st. St., Fountain MN
Follow Us On Facebook!
Karst Brewing in Fountain, MN is a fantastic place to stop for a locally made craft beer.  We have plenty of indoor and outdoor space for your enjoyment.  We are located just 1 block from the Root River State Bike Trail.  Thursdays we have trivia at 7pm and the 2nd and 4th Saturdays May-September we have music and food trucks.  We have lots of snacks and nonalcoholic choices too. Grab a pizza from the Village  Square just 1/2 block away or order from A.J.s Diner (free delivery to Karst)  Be sure to check our website for more events and to view our awesome selection of brews.
---
Lanesboro – 8 miles
www.lanesboro.com
---
Harmony – 10 Miles
www.exploreharmony.com
---
Rushford Peterson Valley – 22 miles
www.rushfordpetersonvalley.com