Shop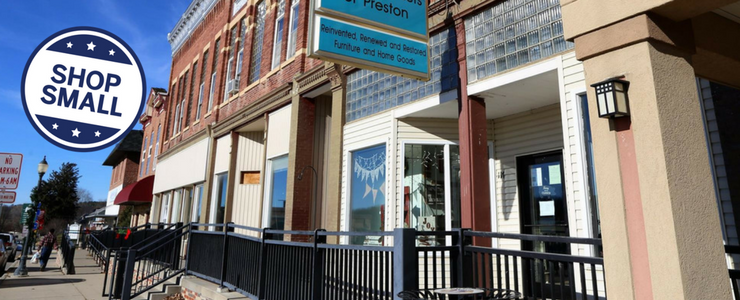 Preston offers a variety of shopping choices that range from grocery and general store shops to unique furniture/gift shops! Plus in the warmer months you may be able to catch a pop-up market in the courthouse square!
---
Baukol's Woodworks & Barrels
119 Fillmore St. W, Preston
(952) 454-0711
www.baukolsbarrels.com
Creating custom made furniture and decor since 2017. In addition to creating whiskey barrel inspired furniture and decor, Baukol's Barrels also offers barrel rental for events as well as barrel sales for both decor and aging purposes.
---
Blossom Hill Orchard & Farm
645 Highway 52 East, Preston
507-765-4486
www.blossomhillapples.com
Located just outside of Preston, Minnesota in the heart of Driftless Region, Blossom Hill is a small, family owned farm. They grow over 30 varieties of apples! Their Orchard Market offers a wide variety of seasonal produce, baked goods and locally sourced items.
---
The Driftless Fly Fishing Company
208 St. Paul St SW, Preston
507-327-4276
www.minnesotaflyfishing.com
Mel Hayner is an Orvis Endorsed Fly Fishing Guide who has been fishing in the region for over twenty years. His love for the area and zeal to show others the unique beauty and trout habitat in the Driftless area inspired him to open his shop. Shop for Orvis gear, kayaks and MORE!
---
Family Dollar
710 Highway 52 North, Preston
507-481-2002
www.familydollar.com
Affordable clothing, food, housewares, cleaning supplies, décor, etc.
---
Hoffmann's Tack Shop
23283 US 52, Preston
507-765-2250
www.hoffmannstables.com
Preston's local horse stable, tack shop, and haberdashery for men and women since 1987.
---
---
Kelly Printing and Signs
21142 US 52, Preston
507-765-9805
kellyprintingandsigns.com
Kelly Printing and Signs is a full-service print shop that specializes in signs, print projects and other large-scale graphics. They offer a variety of Grizzly Cooler products which are made right down the road in Decorah, IA. You will also find Red Wing Shoes, Carhart and Smooth Toe socks there!
---
Napa and Root River Hardware
613 Spring Ave NW, Preston
facebook.com/Root-River-Hardware
507-765-2101
The place to stop for….well, just about ANYTHING! From car parts to garden hoses to river tubes. They really are a one-stop shop! And if they don't have it, chances are they can find something that works for you!
---
Preston Floral + Gift
235 Saint Paul Street NW, Preston
507-765-2214
facebook.com/PrestonFloral
Preston Floral + Gift has been hand-delivering premium floral arrangements and gift baskets to help strengthen relationships, give love and support, and celebrate life's special moments since 2015. From birthdays and weddings to anniversaries, commemorating a loved one, and every little "just because" moment in between. Plus, they've got a full shop of gifts!
---
Preston Foods
105 Fillmore St W, Preston
507-765-2465
www.myprestonfoods.com
Small town market with big town choices. Groceries, necessities, deli, lunch specials. Open daily!
---
Preston Hy-Vee HealthMarket Rx
136 Main St SW, Preston
507-765-2156
www.hy-vee.com/stores/detail.aspx?s=2051
Hy-Vee HealthMarket Rx is a full service pharmacy. They have a variety of medical supplies, household items, greeting cards, etc.
---
Preston Liquor
811 Hwy 52 N, Preston
507-765-2565
facebook.com/pg/prestonliquor
Wine, Beer, Liquor, Ice, and more! Great prices and great service. Conveniently located right on HY 52 next to Country Trail Inn and the Preston Tourism Center!
---
Terri's Tender Lovin' Stitches
129 St. Paul St., Preston
507-765-3766
facebook.com/pg/terristenderlovinstitches
Terri offers exceptional alterations, custom embroidery and heat press customization. At her shop you will also find Preston shirts, school gear, barbie and doll clothes and more! Take a peak and have her design something customized for your next gift!
---
---
Urban Artifacts of Preston
117 West Fillmore Street Preston
507-202-6996
urbanartifactsprestonmn.com
Resale shop with home goods, furniture and one of a kind pieces. Custom refinishing and painting. Retailer of Dixie Belle Paint and Re-Design by Prima transfers and products.
---
Other Area Shopping
Lanesboro – 8 Miles
www.lanesboro.com
Harmony – 11 Miles
www.exploreharmony.com
Farm Charm
35 1st Street NW, Harmony, MN
farmcharm19@outlook.com
farmcharm19.com
We help create a great looking and smelling environment with our soy candles, room fragrances, tumblers, home decor and more! Products for your office, apartment, house or car. Stop into our shop or order online.
Rushford Peterson Valley – 22 Miles
www.rushfordpetersonvalley.com