Forestville/Mystery Cave State Park is a state park in Minnesota. Enjoy camping, hiking, fossil hunting, horseback riding, fishing and more! It contains the village of Forestville, which has been restored to a 19th-century appearance. The Minnesota Historical Society operates it as a historic site. Below ground the park contains Mystery Cave, the state's longest cave, which is open to the public.
Forestville State Park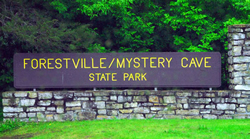 Fish three blue-ribbon trout streams for brown trout. Take in the soft pastels of wildflowers in spring or listen to ruffed grouse drumming and wild turkeys gobbling. Hike or bring your horse to ride the ridge tops and stream valleys. Observe interesting geologic features along the way including sinkholes and dramatic Big Spring. In the fall, don't miss the bold colors of the forest. Winter invites visitors to ski or snowmobile the Bluff Country.
Trout Fishing
The regular trout season runs from mid-April through mid-September. Because of special regulations within the park, the catch and release season runs from mid-September until mid-April. A fishing license and trout stamp is required in the park.
Camping
Camping is available April through November 30. Rustic non-electric campsites are available when the shower building is closed, in spring and fall.
Semi-modern camping with showers is available from mid-April through mid-October.
The group camp is available from April through October.
The horse camp is available from May 1 through October.
Electric Sites: Are available in the main camp from mid-April through mid-October.
In the horse camp, they are available from May 1 through October 31st.
Special Notes for RV Campers: Regular electric campsites have 30 amp service. Horse electric campsites have 50 amp service.
Horseback Riding
The Minnesota Horse Pass is required for equestrians at Forestville/Mystery Cave State Park. These may be purchased from any ELS license agent prior to your visit. Trails are surfaced with crushed rock; shod horses are strongly recommended.
Summer Trails
Hiking – 20 Miles. A variety of experiences available.
Paved Bike – No surfaced bike trails in the park. The closest paved bike trail is located about 12 miles from the park in the town of Preston or Fountain. This trail provides access to the 60-mile long Root River State Trail system.
Horse – 17 Miles. Trails are surfaced with crushed rock. Shod horses recommended. Some fording required. Trail elevation from valley floor to hill top is 200 feet. Very scenic. Trails are typically open early May to late October. Trail pass: A Minnesota Trail Pass is required.
Winter Trails
Cross Country Skiing – No groomed ski trails. All ski trails are ungroomed.
Skate-Skiing – No groomed ski trails. More than 60 miles of winter trail are available on the nearby Root River State Trail system.
Snowmobile – 5 Miles. In the park. This trail connects to more than 100 miles of the grant-in-aid trail system.
Snowshoe – Anywhere in the park
Winter Hiking – Hiking is available anywhere in the park.
Forestville State Park Office
Summer Office Hours:
9 a.m. to 8 p.m. Sun. – Wed., 9 a.m. to 9 p.m. Thurs. through Sat.
Winter Office Hours:
Hours limited due to staffing, but generally 9 a.m. to 3 p.m.
21071 County 118, Preston, MN 55965
Main Park: 507-352-5111
The park has a visitor center located at Mystery Cave. The center has interpretive displays, tour tickets and an information desk, nature store gift shop, and restrooms.
Find books, games, camping supplies, clothing, snacks and other souvenirs are available at the Mystery Cave Visitor Center during the tour season and at the main park office.
Historic Forestville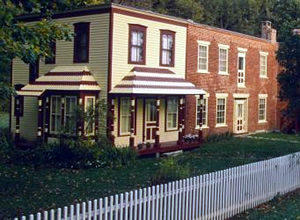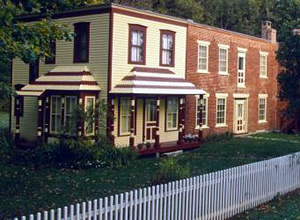 Walk across the Carnegie Steel Bridge into 1899 Forestville. Explore the Meighen family store which is filled with original 19th-century merchandise, discover what's cooking in the kitchen and help the hired hands with chores in the garden and farm buildings. Costumed guides portray residents and their daily activities.
May through September: Thu-Sat 10am-5pm, Sun Noon-5pm
Memorial Day and Labor Day: 10am-5pm
July 4: Noon-4pm
Special events are held year round. Call for group tours.
21899 County Road 118, Preston, MN 55965
507-765-2785 | Visit the Historic Forestville Website
Mystery Cave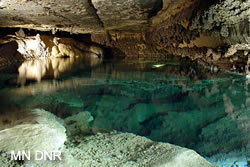 Discovered in 1937, Mystery Cave is the longest cave in Minnesota – spanning over 13 miles underground. It is a network of passages that was dissolved by moving water. On the tours, you will travel the subterranean paths this water has taken, seeing many of the features that make up Mystery Cave including stalactites, stalagmites, flowstone, fossils, and beautiful underground pools. Parks naturalists lead your tour through various portions of the cave and explain its history, its features, and how it was formed. The temperature stays at a constant 48 degrees Fahrenheit.
21071 County Road 118, Preston, MN 55965
507-937-3251 | Visit the MN DNR Mystery Cave Tours Website