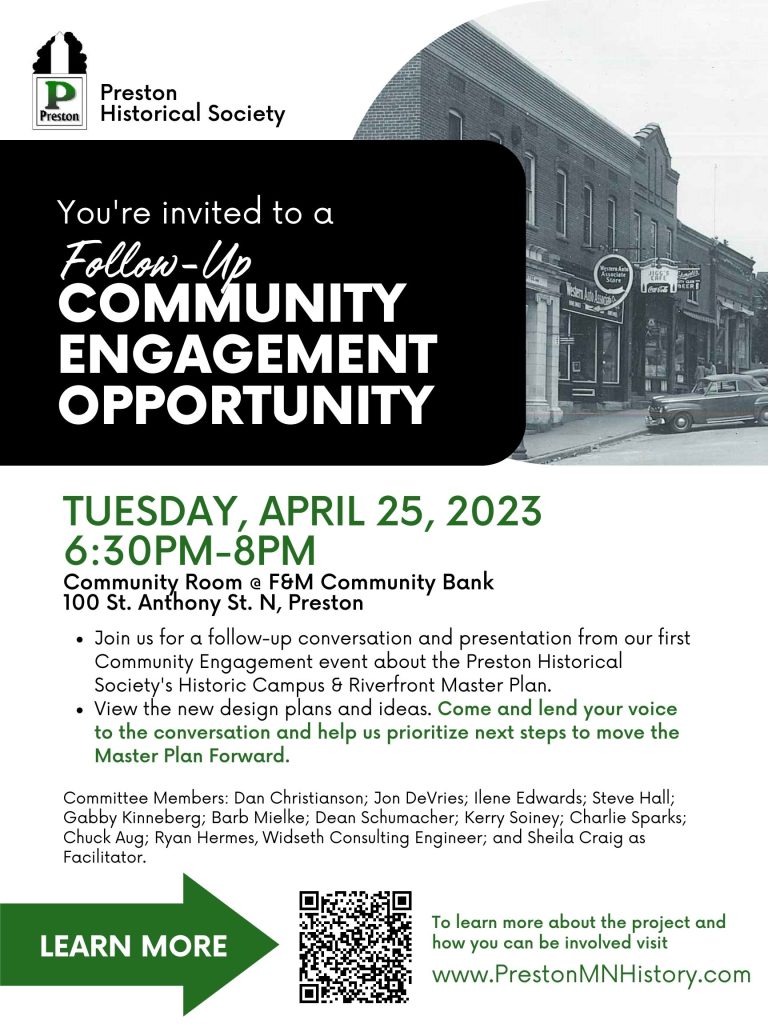 "Bringing us Together Through Our History and Our Riverfront."
Bringing people together through Preston's History and Riverfront has been the mission the Preston Historical Society (PHS) and select task force has been working towards for the past year. 
In August 2021, the Preston Historical Society was awarded a $10,000 grant from the Southern Minnesota Initiative Foundation (SMIF). The goal is to develop a Masterplan for the historic campus at the Trailhead and the riverfront area through downtown Preston.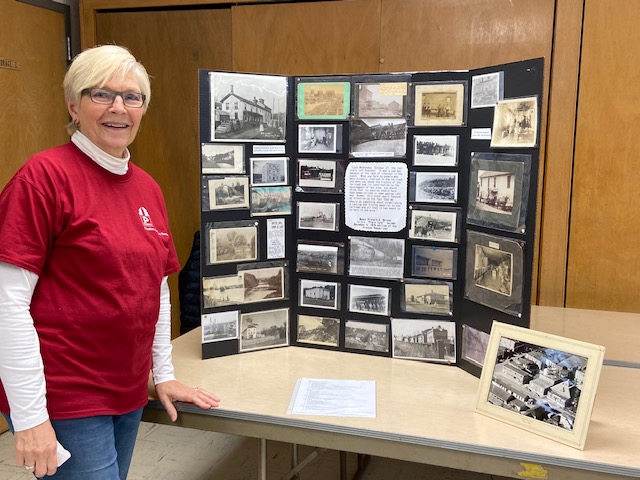 An advisory committee was formed. They have presented their findings and are now working towards phase 2 of the project.
Committee Members: Dan Christianson; Jon DeVries; Ilene Edwards; Steve Hall; Gabby Kinneberg; Barb Mielke; Dean Schumacher; Kerry Soiney; Charlie Sparks; Chuck Aug; Ryan Hermes, Widseth Consulting Engineer; and Sheila Craig as Facilitator.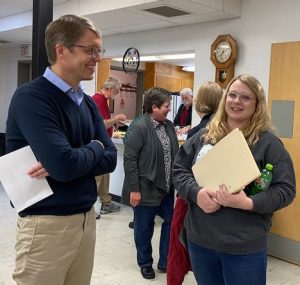 Like many of Minnesota's rural communities, Preston has a rich history tied to the railroads. The town of Preston saw rapid growth thanks to the Milwaukee Road that came into town creating a boom in agricultural distribution centered in Preston. The rail line is now part of the Root River State Trail System. Although many of the historical artifacts and legacy buildings and sites have been removed, the rich history surely has not been forgotten. It is the PHS's goal to bring back parts of the historic railroad and natural karst geology by enhancing the historic campus and reconstructed depot along the riverfront and at Trailhead Park.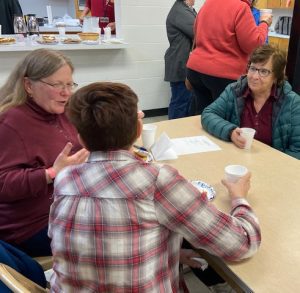 The historic campus will help preserve the history that remains—like the Milwaukee Elevator—but also educate and celebrate what was once there. This is a unique opportunity for the Preston community to be immersed in its own story through interactive and creative experiences enhancing the riverfront park. The PHS and task force's tireless research has uncovered much of the town's railroad history through photos and artifacts, and they are now collaborating with consultants to create inspired ways of bringing them to life.
Funding Partners
$10,000 Southern Minnesota Initiative Fund Grant
$3,000 POET Biorefining Grant
$3,050 Preston Area Community Foundation – Phase I
$3,000 Preston Area Community Foundation – Video
$500 Donation from Evelyn Christianson
$19,550 TOTAL CASH FUNDING +Plus volunteer hours
If you are interested in joining the conversation or contributing to the project through monetary donations or volunteer time, please contact Sheila Craig at prestonhistoricalsociety@gmail.com