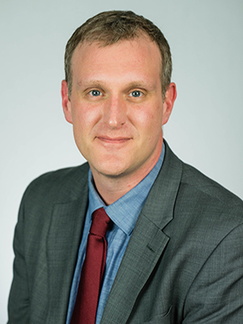 The Origin and Spread of Chronic Wasting Disease
Brunch on the Bluff features U of M researcher Dr. Peter Larsen
Dr. Peter Larsen, Assistant Professor, Department of Veterinary and Biomedical Sciences at the University of Minnesota, will be the featured speaker at Eagle Bluff Environmental Learning Center's Brunch on the Bluff event on Sunday, September 8.
Dr. Larsen's talk: Chronic Wasting Disease of Deer: Historical perspectives, Current Research, and Future Directions will detail the latest science surrounding the origin and spread of CWD. He will highlight the unique ecology of the disease in Minnesota and outline ongoing CWD research initiatives at the University of Minnesota.
Chronic Wasting Disease is a highly contagious neurological disease of deer. CWD was first recognized in Colorado in the 1960's and, since then,  has steadily spread throughout white-tailed deer, mule deer, and elk populations in the United States and beyond. Decades of robust scientific research have documented that the cause of CWD is an abnormally shaped prion protein that spreads through an infected animal, ultimately colonizing the brain and causing cell death. Remarkably, the prion underlying CWD is shed through deer feces and carcasses and it can persist in the environment for years. CWD represents an immediate threat to the heritage surrounding deer and successfully confronting the disease will require cutting-edge technologies and close coordination from all stakeholders.
"Chronic Wasting Disease is a significant problem for deer populations in the Preston/Lanesboro area of southeast Minnesota, affecting the recreational hunter and domestic deer farmer alike. With deer hunting starting in September, we believe CWD is a timely topic for our recreational hunting audience. We are grateful to have Dr. Larsen available to speak about this matter," Eagle Bluff Executive Director John Torgrimson said.
Dr. Larsen's speech will be accompanied by a breakfast brunch.  Doors open at 11:00 am.  Guests may choose to bring an adult beverage of their choice.  Tickets for this event are $35.  For more information or to register, visit the "Upcoming Events" page at www.eagle-bluff.org or call 507-467-2437.  Attendees at the event can also sign up for complimentary post-brunch naturalist-guided hikes along Eagle Bluff's trails.
Brunch on the Bluff is sponsored in part by the Southeast Regional Sustainable Development Partnership through the University of Minnesota and the Lanesboro Community Foundation. Eagle Bluff's "On the Bluff" speaker series, now in its 15th year, is designed to give thought-leaders and experts in the environmental field the opportunity to discuss issues with the broader Eagle Bluff community.
Located in the scenic bluff country of southeast Minnesota, Eagle Bluff is a nonprofit, year-round residential environmental learning center providing education programs and outdoor adventures to more than 16,000 children and adults each year.  Through transformative hands-on experiences we aim to increase environmental awareness and appreciation for the natural world, and empower people to care for the earth and each other.