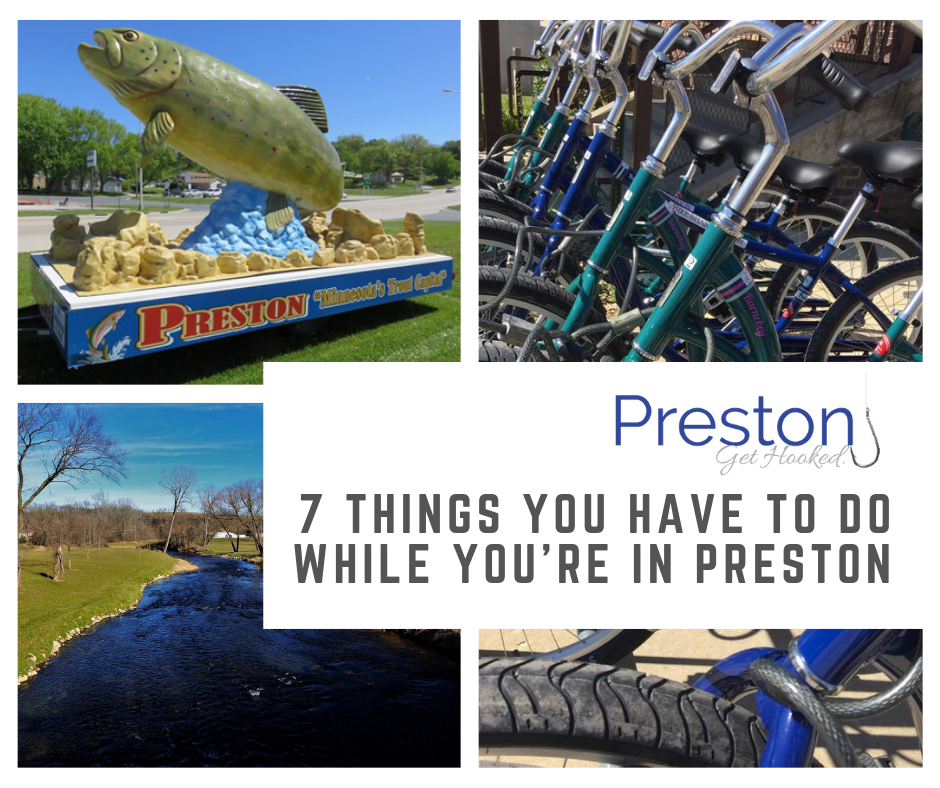 We may be a small town with a population of 1300 people but we promise there is still plenty of "stuff to do."
You just have to love the outdoors and a little adventure!
Here are 7 things that we think you should add to your Preston Bucket List!
Pick up the Historic Walking Tour Brochure and walk. We are full of rich history in our town. You can walk around our downtown and see several historic buildings. Some have been renovated and some still need some tender love and care. Either way, you're bound to learn something new! Plus, we have some pretty cute shops downtown where you can pick up some truly UNIQUE and hand-crafted items! Download the walking brochure here.
Eat some unique local grub. We have some great places in town that offer unique tastes. You can eat Pizza on the Farm in the warmer months at Blossom Hill Orchard and Farm. And we're talking FRESH pizza. You can grab a delicious sub sandwich, homemade soup and a soft-serve ice cream cone that will blow any chain restaurant out of the water at the Sweet Stop and Sandwich Shoppe. Order the Falcon Burger (practically a full meal on its own!) and a good beer at the B&B Bowl Restaurant! Speaking of steaks….if you've never been to the Branding Iron for a steak you better get there, too! And the view is AMAZING. If you leave Preston hungry, it's your own fault! P.S. Don't forget about the Pine Tree Apple Orchard just outside of Preston and of course the Old Barn Resort. You can find information here on all of them.
Ride a bike. Seriously. Bring your own bike or check out the Preston Bike Share at Preston City Hall/Preston Public Library. Learn more about that program here. We are connected to 60 miles of paved trail. You can head out on the bike trail for a short or long ride. It's a great way to get some exercise in and take in beautiful scenery. All trails start at the Preston Trailhead. To learn more about the bike trails go to www.rootrivertrail.org
Explore Historic Forestville and Forestville/Mystery Cave State Park. See natural wonders above and below ground. In the summer, beat the heat with a visit below ground. Explore the world of Mystery Cave with its stalactites, stalagmites, and underground pools. Park naturalists provide tours of the cave throughout the summer and on weekends in the spring and fall. The temperature stays at a constant 48 degrees Fahrenheit. Above ground, stop by Historic Forestville, a restored 1800s village operated by the Minnesota Historical Society (MHS). Fish three blue-ribbon trout streams for brown trout. Take in the soft pastels of wildflowers in spring or listen to ruffed grouse drumming and wild turkeys gobbling. Hike or bring your horse to ride the ridge tops and stream valleys. It's a great day adventure!
Go Fishing. Head to the National Trout Center, rent some poles and pick up the 9-Hole Fishing Course Map. The National Trout Center has all the spots marked with numbers along the river in town and there are even benches and picnic tables along the course for you to stop at. If you're looking for a fly fishing adventure then you will want to go down to the Driftless Fly Fishing Company and talk with the experts. (Of course make sure you get your proper fishing license before doing any of this!)
Take Your Picture With The Trout! The fish is always hanging out right on HWY 52 by Preston Service Plus UNLESS it's winter. You honestly can't miss it. It's definitely a big catch and insta-worthy! SAY CHEESE
Lastly, if you have 10 minutes we want to encourage you to drive through the beautiful State Veterans Cemetery on the edge of town on HWY 52. It's truly breathtaking and an amazing resting place for our nation's heroes. For more information on the cemetery click here.
If you're looking for more information on Preston head to www.GetHookedOnPreston or call 507-765-2100!