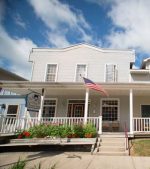 About
The Cottage House Inn … Providing Hospitality for 25 Years!
Welcome to the Cottage House Inn and beautiful downtown Lanesboro! Established in 1993, our inn is family built, owned and operated. Conveniently located on Parkway Avenue (the main street in our small town), you will find our location has easy access to the state bike trails and is within walking distance to a live professional theatre, restaurants and bars, shops, the city park and the Root River! The Cottage House Inn makes you feel at home with our clean and comfortable rooms, relaxing front porch and warm hospitality.  We look forward to the opportunity of being your Inn when you're out!
We have modified our operations to prioritize the health and safety of our guests, our staff, and our community. We will mainly operate our "addition" rooms only, which are rooms 10-14 and Suite 15. Rooms 10-14 are our rooms with exterior entrances and Suite 15 is our apartment. These rooms will be contactless and self-sufficient during your stay with key pad locks and mini refrigerators. Check-in is any time after 12:00 p.m. and check-out is by 12:00 p.m. Our lobby, meeting room, and breakfast room are closed, but a small group may have exclusive access to these areas if prearranged in advance. There will be no daily housekeeping services, but our staff are ready to meet your requests for extra towels, etc., and take your trash/recycling when left outside your room door by 12pm. Our staff will be available via phone, text and in person from a safe distance.