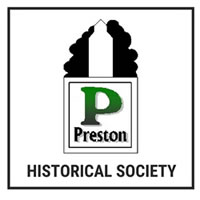 Meetings are the first Thursday of the month at 7:00pm at the United Methodist Church Fellowship Hall.
A little bit of Preston history
Preston was founded by John Kaercher in 1853. The location was desirable as the Root River afforded opportunities for Kaercher to establish his flour mills along the river. The area offered abundant supplies of timber, water power, stonework, and railway service. Preston is named after the town's first postmaster, Luther Preston, a good friend and employee of Mr. Kaercher.
Today Preston, the Fillmore County Seat, is a friendly community of 1,350 located in the Root River Valley. Preston offers a peaceful, small town atmosphere close to many interesting and recreational activities in southeast Minnesota's Historic Bluff Country.
Located in the "Driftless Region" of the state, the Preston area was untouched by glaciers and is now a mecca of karst geology, hardwood forests, abundant wildlife, and numerous springs, brooks, and streams.
Preston Historical Society Facebook Posts
Recent News and History 
The Preston Recollections from 1978 are currently available for check-out at the Preston Public Library!
(6/29/2023)
Here is the table of contents for reference:
Preston Recollections
(Oral Histories from 1978)
Julius Afseth
Orville Amdahl (Registrar of Deeds)
Moppy Anderson
Frank Ashton (Mayor)
Lollie Ballard Cobert
Amylee Broderick (Preston School)
Erma Chilson
Blanche Conkey and Mrs. Dora Conkey (with Tim Grebin)
Elvyn Cummings
Oscar Evenrud
Preston Firehall (Tim Grebin, Elvyn Cummings, Fred W. Neuman, Dr. M. E. Love, O. H. Amdahl, Dean McKnight, Gustav Gartner, Howard Gartner)
Howard Gartner (Businessman)
Bessie Gill (no transcript available)
Tim Grebin
Martha Grinnell (Early Medicine Prices)
Richard Hovelson (Preston Historian)
Wallace Hutton (no transcript available)
Gertrude Johnson Willford with Tim Grebin (Canton, MN)
Ludie Johnson (no transcript available)
Wesley Jones
Lydin Kerr
Gordon Kimber (no transcript available)
Sammy Kirk
Herb and Alma Liester
Iva Lilliard
Dr. Maclaren E. Love (Dentist)
Eunice Maust
Clifford Nelson
Richard Nelson (Mayor)
Fred Neumann
Lester Ott (Railroad)
Esther Pickett
Wendell Pickett
Bernard Pietenpol (Aviation Pioneer)
Art Schibursky
Clair Snyder
Mary Spies (Carimona)
Russell Sutton
Dale Thauwald (Preston Mortician)
Luther Thompson (Meighen Store)
John Turck
John Vande Zande
Violet Van Sande
Wendell Vrieze
George Watts (Creamery History)
Wyman Yaste