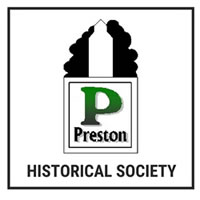 Meetings are the first Thursday of the month at 7:00pm. Please email
prestonhistoricalsociety@
gmail.com
for current location.   
A little bit of Preston history
Preston was founded by John Kaercher in 1853. The location was desirable as the Root River afforded opportunities for Kaercher to establish his flour mills along the river. The area offered abundant supplies of timber, water power, stonework, and railway service. Preston is named after the town's first postmaster, Luther Preston, a good friend and employee of Mr. Kaercher.
Today Preston, the Fillmore County Seat, is a friendly community of 1,350 located in the Root River Valley. Preston offers a peaceful, small town atmosphere close to many interesting and recreational activities in southeast Minnesota's Historic Bluff Country.
Located in the "Driftless Region" of the state, the Preston area was untouched by glaciers and is now a mecca of karst geology, hardwood forests, abundant wildlife, and numerous springs, brooks, and streams.
Preston Historical Society Facebook Posts
A Moment in Time
Preston Historical Society Recipient of Paint the Town Grant
(9/3/2020)
The Preston Historical Society is a recipient of 35 gallons of paint from the Southern Minnesota Initiative Fund's Paint the Town grant program. The grant is being used for maintenance of properties cared for by the Preston Historical Society. This project will include a fixing of the ceiling in the O'Hara schoolhouse, a new coat of paint to the exterior of the schoolhouse, and restoration and paint on the roof of the caboose.
The paint project coordinates recipients with Ace Hardware of St. Charles, MN. Facility committee chairman Jon DeVries and Preston Historical Society President, Sheila Craig picked up the paint recently from the staff at Ace Hardware.